You IQ, personality and aptitude determine your future success and happiness. This proven personality test has been benefited millions of people since 1960. It is the only test of its kind that delivers measurable, accurate analysis, followed by one-on-one consultatios with practical recommendations tailored to your needs, based on your reslults.
Go to www.ocaTampaBay.com to take your free now!
Do the FREE personality test on-line now »
The Scientology Religion
The goal of the Scientology religion is to make the individual capable of living a better life. Scientology is practiced by studying and applying the fundamentals of man, the spirit and life discovered by the religion's founder, L. Ron Hubbard.
Learn more about the Scientology beliefs and L. Ron Hubbard »
Call us today: (727) 895-5404
Church of Scientology of Tampa
St Petersburg Life Improvement Center
336 1st Ave North
St. Petersburg Florida 33701

What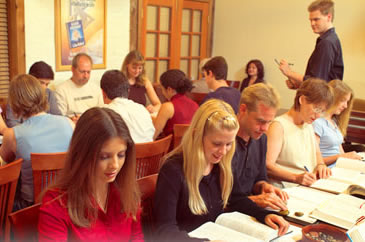 is the real source of our problems? Why do past upsets continue to haunt us? Why is it difficult to understand others, and why do we end up regretting so much? Why are we afraid of old age, illness and death, and why is our happiness so frail?
What is unique about Scientology is the way in which these matters are addressed—and the fact they are finally resolved only by recognizing man's essential nature...
Find out how Scientology technlogy can help you »

Films are shown daily in our Scientology Life Improvement Center to introduce new people to Scientology practices and solutions. Many were written by L. Ron Hubbard, and several are narrated by him.
Learn more about these free introductory films today »
Call us today: (727) 895-5404
Church of Scientology of Tampa
St Petersburg Life Improvement Center
336 1st Ave North
St. Petersburg Florida 33701
Map to the Life Improvement Center